Double post for today!

My fiction blog has gone live at Raivynn's Quill! I have posted the first short story titled "A Day at the Farms" already.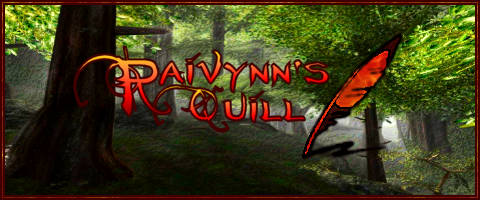 Each story, or part of story, will have its own page. When these stories are posted, an actual blog entry will be made with a description and notes, as needed, as well as an excerpt from the story, and a link to the page housing the story. The blog entries will serve several functions, the main one being a place to leave comments about the story. Tags will also help some one find stories about a particular character, location, style, or other subject.

I'm still (re)learning the craft of writing, and my grammar and punctuation will hopefully improve the more I write. I hope to have new material up every week.

A post will be made here to alert the Roost Readers who are interested in reading my fiction stuff (with the obligatory link to it, you betcha!). Hopefully it will save you from checking Raivynn's Quill every day.

You can leave comments on the stories here at the roost, or at the Quill. Whichever is easier for you. Feedback on the stories is very important to me, as i can use it to help hone my writing.

Hope to see you all over at the Quill!