Every January in Tampa we hold a festival celebrating pirates! It is called Gasparilla, and is named for the legendary (and possibly fictional) pirate captain José Gaspar who supposedly operated out this area. It's like a mini-Mardi Gras, but with pirates!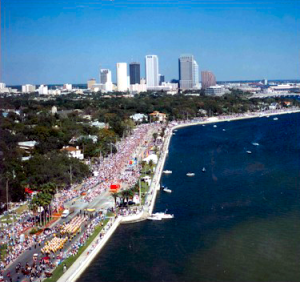 The festival began back in 1904 and has taken place every year, with the exception of a five year span during World War II. Today over 400,000 people take part in the celebration, and all of downtown and Bayshore Blvd becomes a human log jam of sweaty drunks, gaudy pirate costumes, and jiggling ja-jas. It's pretty good for the local economy, too. Especially plastic bead makers, I suppose.



Gasparilla Pirate Fest begins with a waterborne pirate invasion with the world's only fully-rigged pirate ship, the Jose Gasparilla. The pirate vessel, along with a ton of pleasure craft (who sailed to meet the pirate ship in battle but are turned instead towards the pirates cause), travel up Hillsborough Bay into Seddon Channel and towards downtown Tampa. When the Jose Gasparilla docks, the Mayor surrender the Key to the City of Tampa to the Captain of Ye Mystic Krewe of Gasparilla.


Once the city surrenders, the pirates celebrate their victory with the Parade of Pirates down Bayshore Boulevard. (Bayshore is also the site of the world's longest contiguous sidewalk at 4.5 miles). There are floats and entertainment, with free beads thrown to clamoring people of all ages. And, yes, just like Mardi Gras, plenty of women will bare their breasts for a handful of cheap plastic trinkets. Booze flows freely, as well; a welcome return for the inebriates of Tampa this year. =/

The Gasparilla Pirate Street Festival takes place all day of the invasion with live entertainment, more food than you could ever wish for, and a Midway with rides, games, and other amusements. All in the middle of downtown Tampa!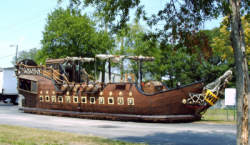 A week before this event, a family friendly Gasparilla event is held. This one is strictly for the kiddies. There is a children's parade, a bicycle rodeo, an air invasion with vintage aircraft and parachutists, and capping the evening with a "Piratechnic Extravaganza". This fireworks display is stunning. It recreates the imaginary battle between the city of Tampa and the pirates of Ye Mystic Krewe of Gasparilla. The city never wins.

Both events are free. Free as in you don't have to pay to go. Parking, food, reserved seats, games, rides, water, beer .. all those you have to buy. Usually at inflated prices. The bare boobs are free, however ... unless you count the plastic beads the paraders toss to them.


A few weeks later there is the Sant'Yago Knight Parade held in Ybor City. It is even more adult oriented than the invasion day festival, and takes place at night. Illuminated floats, costumes, more drunks, more beads, and more breasts fill the streets of Ybor City. (Ybor is an historic district in Tampa and is one of the areas top hot spots for night life, though the day has much to offer families. It's a great place, either way!)

It's been years since I've gone to the Pirate Fest. All the walking is too much for me, and I'm not the best around stupid, drunk crowds. But it always was a blast, and I recommend anyone who's in Tampa these next two weeks to check it out.

The kids festival takes place on January 20th, with the more adult styled festival the following week on January 27th.

I expect this year to be even bigger than ever before with the popularity of Disney's Pirates of the Caribbean movies. A lot of Jack Sparrows will be wandering about, I bet. which is only cool. I love the pirate milieu, actually. nothing quite like a good pirate story! ^.^

Note: All pictures were liberally swiped from the pretty cool Tampa Government Website. All props should be given to the original photographers, even though I did clean up and enhance a few images. Okay all of the images here, but I didn't take the pics themselves. ~.^