The obscure Canadian rock group
Five Man Electrical Band
got it right with their song "Signs".
Tesla
did an awesome cover to it many years later. (Lyrics to the right).
A few weeks ago I wrote a
satirical article on signs
. While signs were the focus of the story, the real humor came from the vagaries of the English language written on those signs.
That got me thinking of all the crazy signs that are out there. So I hunted down a bunch that will make you scratch your head.
Gee, you think?
This is also the same place whose TV station doesn't have a weatherman. They just send the station dog outside. If he comes back wet, it's raining. If he comes back white, it's snowing. If he doesn't come back, aliens probably abducted him. Please stay inside and lock your doors.
---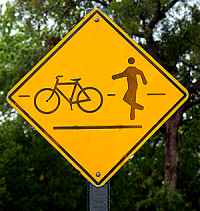 If you see this sign be watchful for bicycles rolling around by themselves. There will likely be a Lycra-clad person chasing behind it. Wait at least 20 seconds before proceeding after a bicycle has gone by to allow for slower chasers.
---
I suppose this is the same reason you drive on a parkway, park on a driveway, trucks carry shipments, and boats carry cargo. And, does this make the McDonalds' employee who brings it out to you a carhop? They should make them wear roller skates when they do.
---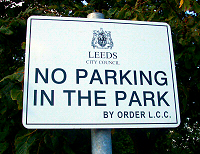 Leeds is a fun town. I like going to the park and watching the parents shove their kids out of the car as they speed by the playset.
---
Oooooo-kay ... right.
This sign does not exist. It is a figment of your imagination. Ignore the sign. No, wait ... don't ignore the sign. But, it's really not there. so, ignore the sign, but don't ignore it? 'k? Please?
More Silly Signs Later ...
---
Today's Penny Doubled Daily Cumulative Amount for 64 days is: