We've all seen those ubiquitous baseballs stuck in a cracked window on a car. Or, maybe it was a hockey puck, or a football, or a golf ball. You've probably also seen those faux bullet holes you can plaster on your car.

Those are pretty neat, but everyone is doing it. If you really want to shake up your fellow drivers, you need a great optical illusion. Maybe like some of these below. ~.^
---
Sports car and van all in one. I know some boys who would have killed to have both back in high school.
---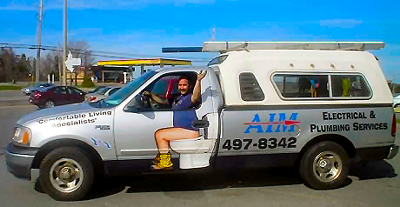 This gives a whole new meaning to the phrase "Give it some gas!" I wish I could get a picture of it, but locally there is a lawn service company that has a truck with a guy riding a lawn mower in a similar style. I've seen it twice in the last few years, but I forget the company name.
---
I believe the entire series of these truck images are from Germany. I tried researching them but could only find the images, not the information on them. Of course, I didn't spend a lot of time looking. I assume the trucks are draped with the painted canvas, then driven around as a mobile billboard. We have some mobile advertising in Tampa, but nothing like these trucks.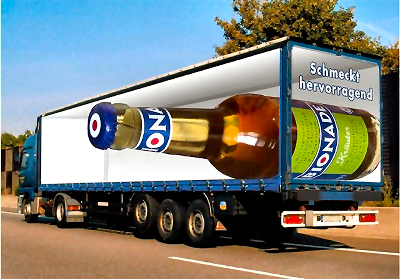 From this angle it appears the bottle is coming out from the side of the truck. You'd need one hell of a bottle opener for that thing.
---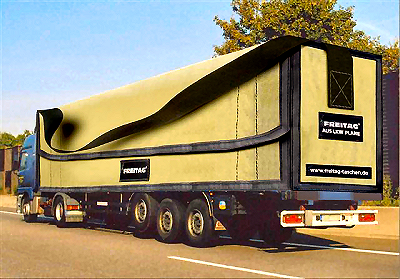 I'm not sure this would be considered carry-on.
---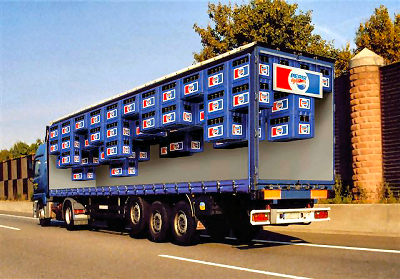 How many times do I have to tell those guys to unload from the top first?
---
Reminds me of the time I was stuck behind a slow tractor-trailer. I got frustrated and changed lanes only to see another semi heading right towards me. I slammed on my brakes and near crapped myself before I realized it was only being towed by a huge tow truck. I'm sure the people behind were not amused by my sudden stop, either. =/
---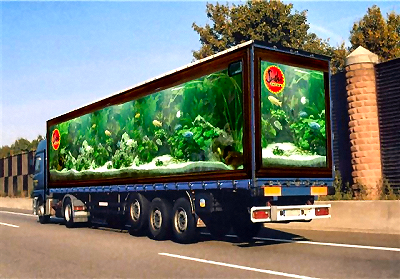 Aquaman's RV?
---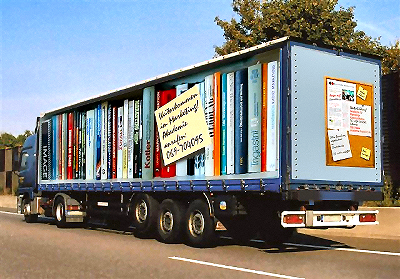 I heard Germans were big readers, but I never knew how big!
---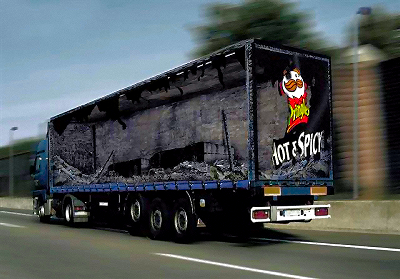 If they could get some smoke to wisp out as it drove around ,it'd be a really cool effect. This one is my favorite.
---
Today's Penny Doubled Daily Cumulative Amount for 40 days is: