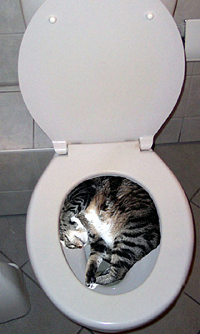 Ran across this cute picture.

Decided to have a contest to see who can make the funniest caption for it. The winner will receive a prize of photo-manipulation caricature of themselves, or other person they want. Winner must provide the original digital photo. contest ends Friday, March 2nd, Noon EST.

I'll start off with a few (that won't count):

"OMG, that is the last time I eat at that Chinese restaurant!"

"Ma'am, we've found the clog in your toilet ... and your missing cat."

"I dunno why my humans complain about this job. Who needs scrub brushes?"
---
Today's Penny Doubled Daily Cumulative Amount for 58 days is: