Top 10 Clues That You May Be Addicted To WoW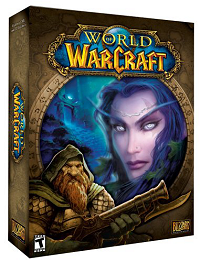 #10 - You see a retention pond and wonder what sort of fish are there and if they will raise your Fishing skill.

#9 - You call Corvettes, Mustangs, and other sports cars Epic Mounts.

#8 - When you go out to eat you order Heavy Kodo Stew and Sweet Nectar for the stat boosts and mana regen.

#7 - If a friend says "Let's do KFC for lunch!" and you rack your brain trying to remember what instance that is.

#6 - You try to convert real world item prices into Gold, Silver, and Copper equivalents.

#5 - You can remember every guild members main toon, their alts, their classes, levels, and professions, but forget family birthdays, anniversaries, and special holidays.

#4 - You call backyard barbecues "Burning Crusades".

#3 - You take personal days/call in sick/play hooky so you can make the guild raid.

#2 - You know the history of Azeroth better than the history of your own country.

#1 - You can think of several more Clues your addicted to Wow.

If you come up with any, drop them in the comments section for all of us to read!
---
Today's Penny Doubled Daily Cumulative Amount for 94 days is: