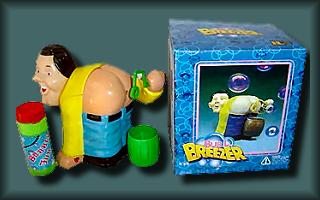 This is a Chinese made bubble blower called Bubble Breezer (or Bub L Breezer). Yes, he blow bubbles out of his butt. No, I'm not providing a link to where you can get one. You'll know how to find one if you really wanted one ... not that anyone would. Right?

Besides, with all the Chinese recalls lately, you'd be lucky if this thing didn't blow up in your face, or create leaded bubbles.

This product might explain doggy breath:


It can't be be any worse than the possible upcoming US introduction of the well-made Chinese automobile manufacturer Chery Amulet. See how well it fares in a standard crash test.

That's pure quality there, folks! You just don't get full body accordion crumple like that in American cars these days. (Technically, that was a Russian crash test demonstration of the Chery Amulet).

Chrysler has inked a deal with Chery to begin selling its cars here in the US. Mainly compact and sub-compact cars in the $10,000 to $15,000 range. And, yes, they will still make money on such cheap automobiles manufactured in China and shipped to the US. [cite]

Chrysler is going to have to do a Hell of a job selling this piece of crap to the American public. Oh, sure, they will likely get it up to American safety standards. But, the stigma of being Chinese made, especially after the recent spate of dangerous Chinese made recalls, will make most people think more than twice about buying one. The viral video above will be burned into a lot of peoples' consciousness. The Buy American segment will surely use any and all manner and media to discredit the purchase of these cars.

We're a ways off from seeing them in the US, and Chrysler is probably more interested in growing their brand name in foreign markets, where these cars, even in current state, would sell nicely. Still, the US market could use a reasonably priced, safe, fuel efficient small car (think VW Bug a few decades back.)

Time will tell. Maybe these Chery built cars will be a good thing.

And, maybe it'll blow bubbles out of its tail pipe!